We understand the concerns pet owners have about veterinary care costs. That's why we've created this webpage to provide estimated prices for a wide range of services.
Our goal is to help you make informed decisions about your pet's healthcare by offering transparent pricing. Whether it's check-ups, vaccinations, dental care, surgeries, or other services, this page will give you a general idea of the expected costs at Green Dog Veterinary Center.
Please note that the displayed prices are estimates based on averages across multiple locations. Actual prices will vary depending on factors like animal health conditions, procedure complexity, and additional services. For accurate and up-to-date pricing information, we recommend consulting with a Veterinarian at Green Dog Veterinary Center.
We hope this page helps for planning and budgeting your pet's healthcare needs.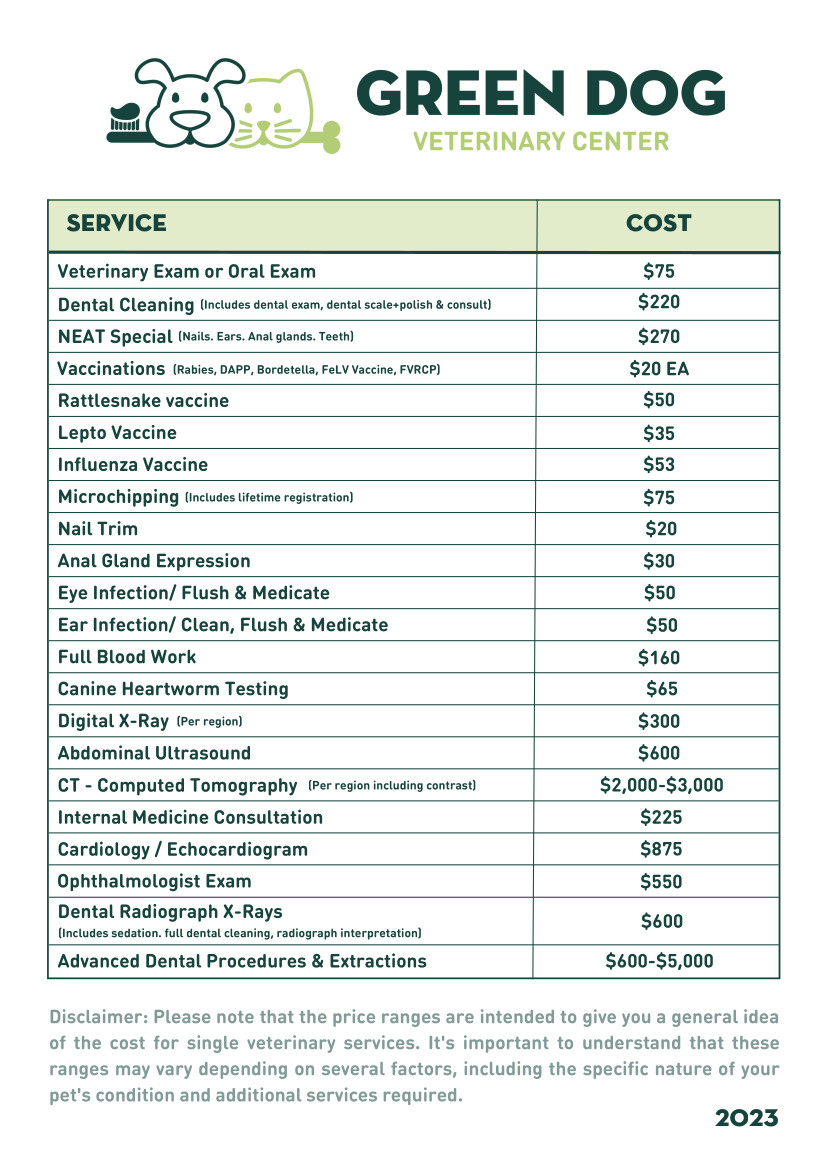 It's essential to recognize that veterinary care often involves a comprehensive approach that may require multiple services or treatments. The prices listed in the chart do not account for scenarios where a pet may require a combination of services or multiple visits to different locations.
We highly recommend consulting with a Green Dog veterinarian to discuss your pet's specific needs and obtain an accurate estimate of the overall cost for their care. A Green Dog Veterinarian will evaluate your pet's condition, conduct thorough examinations, and provide a tailored treatment plan that takes into account all necessary services and potential follow-up appointments.
Remember, your pet's health and well-being are our top priority, and we are committed to providing the best possible care. Please don't hesitate to reach out to our clinic for more information or to schedule an appointment.