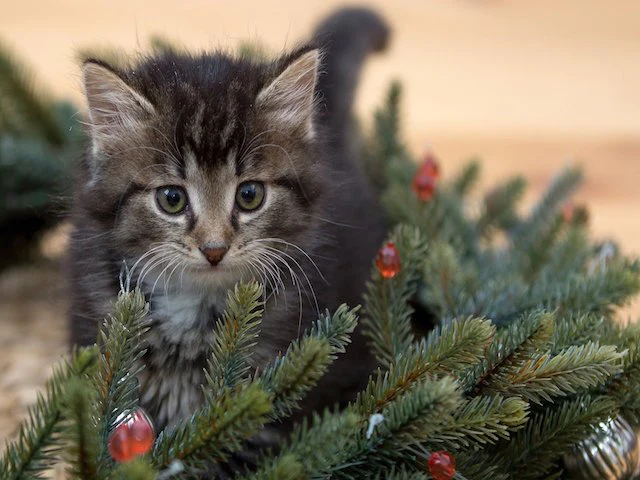 The holiday season brings plenty of cheer (and don't we all need some of that right now?) but Green Dog Dental wants to remind you that there are also plenty of dangers for our four-legged friends.  
Not to worry, most holiday hazards can be easily prevented! Knowing what to look out for is the first step to creating a space that is jolly and peaceful for you and your pets.
 Here is a list of things to check on before the holiday season begins that will keep you pet safe and sound through the holiday season:
RIBBONS AND HOLIDAY DECORATIONS
Ribbons, tinsel, and other decorations can present a choking hazard for both dogs and cats. Keep them out of reach!
THE CHRISTMAS TREE
If you have a Christmas tree, take care to secure it. They're awfully tempting for cats and dogs and pose a variety of risks. The tree could topple over, the ornaments can shatter, and the lights can electrocute. If you don't trust your pet to keep away, you may want to think about getting a smaller tree and putting it on a table.
SEASON PLANTS TO AVOID
Avoid bringing poisonous plants into the house. Some of the decorative plants for the holidays are toxic, and one of the most popular, the poinsettia, is at the top our list.
KEEP ELECTRICAL CORDS AWAY FROM PETS
Keep an eye on any new electrical cords and open flames (candles on the windowsill, on a menorah, etc.)  Never leave a flame unattended.
KEEP PETS WARM AND TOASTY
In much of the United States, the weather is getting progressively colder. Make sure your pets are safely inside. If you're cold, they're cold!
A LITTLE PEACE AND QUIET
If your pet doesn't enjoy the hustle and bustle of company, or even if they do, carve out a safe and quiet space for them inside the house where they can go and decompress or where you can put them if they get too rowdy.